Shopping Cart
Your Cart is Empty
There was an error with PayPal
Click here to try again
Thank you for your business!
You should be receiving an order confirmation from Paypal shortly.
Exit Shopping Cart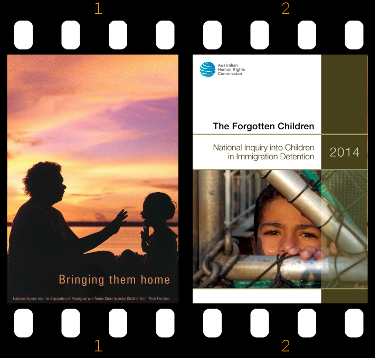 In 2007, then Australian Federal Health Minister Tony Abbott was quoted as saying, in relation to the policy of removing Aboriginal and Torres Strait Islander children from their families:
The fundamental premise on which it was based – that children were better off away from their black families – was wrong, indeed repugnant. … We should have known it then. We certainly know it now, and we do have to atone for it.
In 1995, the Keating government had commissioned an inquiry into the policy. The Howard government, receiving the report, dismissed some of its key recommendations. Apart from the central question of a national apology, the government was found to have been in breach of international law. The Commission was chaired by Sir Ronald Wilson, a distinguished former High Court Justice and Mick Dodson, a Barrister, academic and eminent Indigenous advocate.
Two distinguished legal experts, commissioned to deliver an expert opinion.
The then Prime Minister Howard regarded the report – which heard some 777 submissions – as 'a contribution to the analysis, but it does not deserve to be put at a higher level than that'. In particular, compensation measures and an apology were refused.
In farewelling former Prime Minister Kevin Rudd from the Parliament in 2013, Tony Abbott (by now Prime Minister) concluded with his reflections on the National Apology, finally delivered by Rudd on behalf of the Parliament as the first act of the new Parliament in 2008:
… much as I admire and appreciate and put on a huge pedestal his [Rudd's] immediate predecessor [John Howard], in this respect at least, his immediate predecessor had lacked the imagination to grasp that opportunity… Kevin had the decency to see that here was something that needed to be done.'
Here we are in 2014 and now Gillian Triggs, Human Rights Commissioner and author of the National Inquiry into Children in Immigration Detention, is in the spotlight.
A distinguished legal expert, commissioned to deliver an expert opinion.
Not only has Abbott demonstrated a similar intransigence to Howard in relation to the Bringing them Home Report, he has now gone a step further, imputing the integrity and professionalism of the expert opinion: 'a political stitch-up' and 'a blatantly partisan, politicised exercise.'
Others have described well why Abbott's response it was so imprudent, and offered alternative approaches.
However, in the government's moral obfuscation of the issue, we can perhaps see something of Australia's deeper malaise. Disoriented by the whirlwind of the now and the expediencies of a crass mass-media circus, we lack the perspective to see with moral clarity when we are committing systemic injustice despite ourselves.
It would be easy to put this all down to a government that has lost its moral compass, even if that is, in Howard's words above, 'a contribution to the analysis'. But how can we each contribute to conditions where we are able to see injustice, not just with the detached perspective of history, but from calm clarity in the eye of an unrelenting political storm?
Categories: Australia, Human Security, Dialogue
/