Shopping Cart
Your Cart is Empty
There was an error with PayPal
Click here to try again
Thank you for your business!
You should be receiving an order confirmation from Paypal shortly.
Exit Shopping Cart
Reflections on issues and questions; all in some way, however tenuously, related to what we do. The views are ours at the time of writing, and don't necessarily reflect the view of anyone else, or Inside Change officially, nor necessarily our own view at any given time after writing it. Thoughts in the moment for the moment, for what they're worth...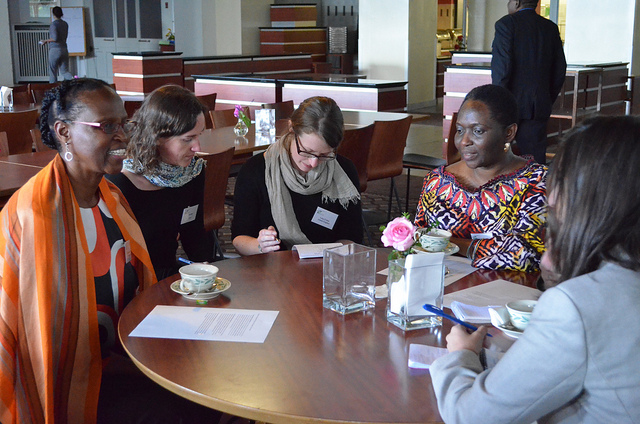 It was a breath of fresh raging air to read Duncan Green's blog on poorly run conferences. Maybe frustrations can be the first step towards solving the collective action problem of people suffering at horrendously designed conferences all over the world, every day.
For those familiar with the world of open space technology, you will know that the whole premise of that methodology (30 years ago) was that coffee breaks might in fact be the most interesting and productive part of a conference, so how could you make a conference like one long coffee break?
If you're at Green's level of frustration, I suggest going straight to a book like Harrison Owen's on Open Space. To answer the main question up front, if you have negligible time and resources, and the criteria for using Open Space are met, it has incredible potential.
I want to flag up front one key design flaw of most conferences: they lack a narrative. A 'good' conference might have some sort of coherent flow over the course of a day, which is then simply repeated on any subsequent days and book-ended by an opening plenary and a closing plenary. In designing conferences, I would suggest one of the key questions is how we will allow people to have consciously moved from one place in their understanding of a subject, themselves, or the world, to a deeper place.
To keep the conversation going, a few ideas to contest:
Panels can't be interesting – I fully agree panels generally aren't interesting, and are just a way of accommodating as many egos as possible in the conference program (see point 3). However, I tend to think they can be rather fascinating. But there are to my mind two critical success factors for a panel:
Pre-meeting: having the entire panel meet, with the moderator, at some point before the session for at least 30 minutes. I ran an annual conference in Switzerland for two years, and our conference assistants delivered messages to panellists when they arrived, inviting them to tea the day before their panel. This meeting builds rapport, it reminds the panellists (subconsciously if nothing else) that they are not the most important person on the panel or in the room, and allows them to realise that the often completely disconnected introductory remarks or speeches they've prepared won't really get anyone anywhere. It allows the moderator to clarify the framework, and to arrive at a shared understanding of what the panel is trying to achieve.




Get a great moderator to moderate, not another expert: Allocating the moderator should not be a way of getting another expert onto the panel. For a good panel, you generally need a great moderator, and I suggest it doesn't need to be an expert (even with academic conferences, though this hasn't been my area).  Consider the best interviewers or moderators you have heard - they are 'experts', so to speak, in the flow of conversation, and they have techniques and tools for drawing out the best of what people have to say; we forget that what looks like them swanning in casually and 'having a chat' is actually the product of years of practice, and hours of preparation for a single interview. So the criteria for selecting the moderator: they need to prepare assiduously and have proven skills in facilitation (neither condition is sufficient on its own). Moderation needs to be recognised as a non-content aspect of the preparation.




Methods are not zero sum: A speech isn't inherently bad, nor a panel, nor are group facilitation methods a silver bullet to productive group experiences. They can be blended. So for example in one conference a colleague experimented with a session that began with a panel, after which the speakers dispersed to different tables on the floor in a world café format for several rounds, after which they returned to the platform to continue the panel, drawing in the insights from the collective discussion.
Important people must speak, otherwise they won't come – this is a standard assumption, which defies reality and logic. I always recall a conversation with a friend who was working for a High Court Justice in Australia. He handled her invitations to all manner of events, and at one point she said to him that she would be much more inclined to go to certain events if she could just sit and listen! An anecdote, of no scientific value. But it seems to me there are two possibilities. Either someone feels they are so much more useful to humanity that they indeed must speak, in which case why do we want them at our conference? Or, they are someone of genuine humility and can see the value in participating as another participant. So why not sort the wheat from the chaff by inviting people to participate rather than to speak? We adopted this approach for the conference I mentioned above. We had some panel sessions in the design, but all the panellists were invited to speak only after they had confirmed their intention to come as participants. Moreover, whilst in some contexts there is an objective hierarchy of expertise in a room, there is often a bias in that direction. It's entirely open to question whether a VIP necessarily has anything more useful to say about, for example, broad questions of international peace and security than my nephews and nieces. Experience in those sorts of fields just equates with more to say, in my view, not necessarily more useful things to say.
Speeches are great. Sometimes, yes. Usually, no. There are two ways a speech can be powerful, as I see it. Firstly, by saying something new and interesting. TED and company do this nowadays; no need for a conference any more to achieve that. Secondly, more relevantly to a conference, there can be something about a 'speech event' that is significant and, at times, powerful. I'm not sure exactly how it works or what it is, and maybe there is research on it out there, and I certainly don't deny it, but I'm fairly certain it isn't reliant on the VIP-ness of the speaker.
Fill the program! In visual communications they talk about the 'white space' - where is the 'white space' in most conference designs. This can be just some space to breathe, but then reflective silence can be incorporated in all sorts of productive ways.

It's worth remembering some behavioural insights, especially representative and status quo bias. So most conferences are done the boring way; this means a really bad conference of traditional format is an outlier from the mean, and doesn't affect the general 'meh' sentiment of conferences in general. One of the risks involved in newer methodologies is that if people experience a bad example of it, chances are it's their first, and they are likely to make their judgment based on that. So for skeptics out there who have been to one bad 'new methods' conference or unconference and have dismissed the whole endeavour, consider the possibility that it was not representative of the field. In another way, this adds weight to Green's call for both speaker (and I would add, conference organiser) ratings and also social scientific research into different methods.
In relation to research, I would underline the importance of metrics around both satisfaction and impact. There is an open question as to whether conferences achieve anything (of social value) in certain contexts, and tend more often to serve as subsidised vacations for people pretending to do work. I'm not against subsidised vacations, but make it a proper vacation! And to be honest, if instead of organising a conference, we just arranged for all the relevant people to hang out at the beach for a few days, more may be achieved. We perhaps underestimate the extent to which our structure constrains and stifles, rather than giving the true freedom to be innovative and create. 
Some other tools and methods to explore:
South Sudan. As if further commentary was needed, when patently it's not, here I go…
Apart from a few attempts by a very few people, on every side in South Sudan it seems most people are clear that someone else is the problem. Many people blame the leaders or IGAD (or other people, in neighbouring communities). The Government often blames the Opposition, if not the UN or the international community and negotiators (and for some reason has now honed in on NGOs as well). The Opposition blames the government, if not the UN or the international community and negotiators. The UN and the US blame the Government and the Opposition. Commentators blame whoever rationally seems most to blame (not surprisingly, Israel, Iran and China get a guernsey here, too). Civil Society blames everyone who are not them. The Church blames a general failure of political leadership, as if the Church leadership is beyond reproach. So if we aggregate, then we have in the dock: the Government, the Opposition, the people, different ethnic groups, warlords, NGOs, Regional States in general, IGAD specifically, the UN, Israel, Iran, China in general… Approached in this way, the debate rapidly turns into a lot of noise, very little useful information, and gets us nowhere fast.
I say this simply to give some context to the film above, and why I would say there's particular hope in some of the film's simple stories. What will come of the specific process remains to be seen, but as people begin to shift from finger-pointing to personal responsibility, there will be growing disruption to the pattern of violence. It speaks to people who are taking ownership of their part in the problems of South Sudan, and finding their role in constructive, inclusive solutions that bridge divides. It reflects a different narrative of South Sudan; not an aspiration, but a reality that is unfolding in baby steps among perhaps a very few people who appreciate that South Sudan won't change until people change their attitudes. From other anecdotes I pick up regularly, this is clearly just one example of a new narrative; good people doing good things abound in South Sudan. All of them will suffer if those of us outside, and others within, only continue to heckle with the blame game.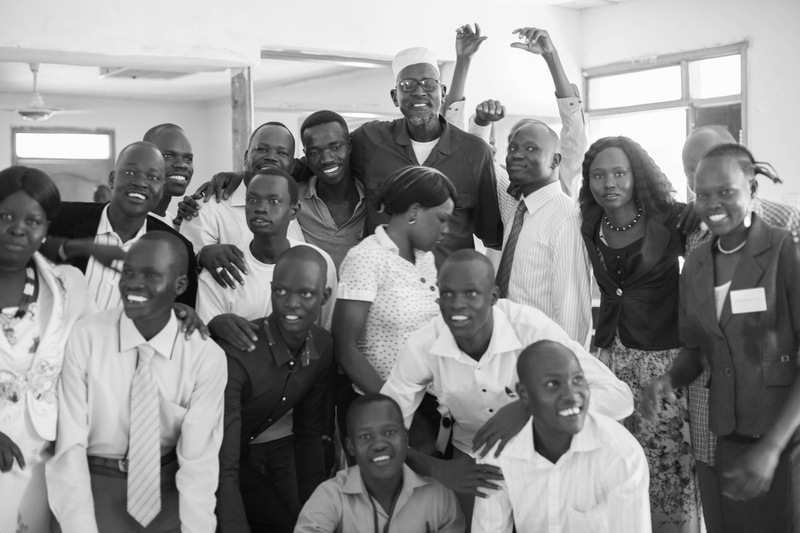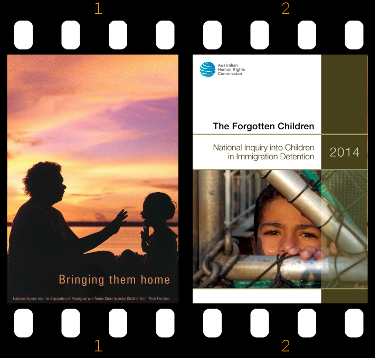 In 2007, then Australian Federal Health Minister Tony Abbott was quoted as saying, in relation to the policy of removing Aboriginal and Torres Strait Islander children from their families:
The fundamental premise on which it was based – that children were better off away from their black families – was wrong, indeed repugnant. … We should have known it then. We certainly know it now, and we do have to atone for it.
In 1995, the Keating government had commissioned an inquiry into the policy. The Howard government, receiving the report, dismissed some of its key recommendations. Apart from the central question of a national apology, the government was found to have been in breach of international law. The Commission was chaired by Sir Ronald Wilson, a distinguished former High Court Justice and Mick Dodson, a Barrister, academic and eminent Indigenous advocate.
Two distinguished legal experts, commissioned to deliver an expert opinion.
The then Prime Minister Howard regarded the report – which heard some 777 submissions – as 'a contribution to the analysis, but it does not deserve to be put at a higher level than that'. In particular, compensation measures and an apology were refused.
In farewelling former Prime Minister Kevin Rudd from the Parliament in 2013, Tony Abbott (by now Prime Minister) concluded with his reflections on the National Apology, finally delivered by Rudd on behalf of the Parliament as the first act of the new Parliament in 2008:
… much as I admire and appreciate and put on a huge pedestal his [Rudd's] immediate predecessor [John Howard], in this respect at least, his immediate predecessor had lacked the imagination to grasp that opportunity… Kevin had the decency to see that here was something that needed to be done.'
Here we are in 2014 and now Gillian Triggs, Human Rights Commissioner and author of the National Inquiry into Children in Immigration Detention, is in the spotlight.
A distinguished legal expert, commissioned to deliver an expert opinion.
Not only has Abbott demonstrated a similar intransigence to Howard in relation to the Bringing them Home Report, he has now gone a step further, imputing the integrity and professionalism of the expert opinion: 'a political stitch-up' and 'a blatantly partisan, politicised exercise.'
Others have described well why Abbott's response it was so imprudent, and offered alternative approaches.
However, in the government's moral obfuscation of the issue, we can perhaps see something of Australia's deeper malaise. Disoriented by the whirlwind of the now and the expediencies of a crass mass-media circus, we lack the perspective to see with moral clarity when we are committing systemic injustice despite ourselves.
It would be easy to put this all down to a government that has lost its moral compass, even if that is, in Howard's words above, 'a contribution to the analysis'. But how can we each contribute to conditions where we are able to see injustice, not just with the detached perspective of history, but from calm clarity in the eye of an unrelenting political storm?

You may have seen the new advertisement for Australian lamb, featuring iconic cricketing legend Richie Benaud, along with Ned Kelly, Captain Cook (Cookie) and others. Presumably it's meant to represent something quintessentially Australian. The 90s/early 00s Qantas ads, featuring the Australian children's choir singing 'I still call Australia home', were probably intended to do the same. This week, an amateur mash-up video Straya is a more light-hearted attempt. On the dreamy end of the scale, the 'exclusive heaven' of the new National Capital's 'Confident. Bold. Ready' campaign video is more of the same. And we shouldn't forget the 'where the bloody hell are you?' perspective on brand 'Australia'.
There's the Australia of adventure, the laid back sunburnt country, discovery, the fair go, mateship, the Boxing Day test, the shrimp on the barbecue (I confess I've never had a shrimp on a barbecue), surfing, a good cold beer. There's the Australia of prevalent mental health issues, high suicide rates, broken families, the indigenous welfare gap, the non-indigenous welfare gap. There's the Australia of Indigenous culture, sustainability, the dreamtime, stewardship of the land, multi-culturalism, endeavour, migrants, the arts, innovation, social progression. There's the Australia of closed-mindedness, fear, mindless consumerism, entitlement, resource-rape, bury-our-heads-in-the-sand-she'll-be-right carpe-diemism. And blends and shades and variations between. And of course there's the Australia where we spend our lives in a virtual world on facebook constructing what we think Australia is about. And implicit in the above are my own biases.
So I wonder whether the debate about when Australia Day should be is actually not the real question (it's a no brainer that changing from January 26 won't hurt anyone, whereas keeping it does. Surely that's the end of the debate?). Rather than vapid parochialism, on whatever day of the year we devote to it, what is perhaps more interesting is a day that honestly explores all the competing narratives of what it means to be Australian, none of which we can deny (the good and the bad alike), and ask ourselves what we can do practically to reinforce the narratives that draw out the best in all of us, not just recline in a cloister of self-satisfied righteousness, together with all those 'true' Australians who agree with us.
If anyone knows where this conversation is happening, let me know...
The views are the author's at the time of writing, and don't necessarily reflect the view of anyone else, or Inside Change officially, nor necessarily the author's own view at any given time after writing it. Thoughts in the moment for the moment, for what they're worth...

Having just returned to my base in the UK from Yei, South Sudan, after spending a month with 70 participants from across the country for a shared journey of listening and dialogue, I'm full of hope for South Sudan, at the same time conscious of how little hope many have.
When I return to my home in Australia, friends inevitably question – with the best of intentions – my reasons for getting involved. For a country that, from one reading (often proliferated by media), seems to have regressed from the hope of Africa to a basket-case, it could easily seem like a hopeless cause. For all the richness of the culture, the beauty of the landscape and the people, there remains the undebatable reality of brutal, widespread violence and pervasive corruption.
During the month-long training program, however, there were striking examples from participants and facilitators of what is possible. Even honouring small stories of what people have done to foster reconciliation can encourage the shift towards a narrative of reconciliation and healing and away from a cycle of endless revenge.
On the final day of the training, we did two appreciation exercises, where participants acknowledged the best of what they had seen in their fellow participants. I was struck by how deeply moved many participants seemed to be by what their new friends saw in them. There are many reasons for this, but perhaps one is the dearth of affirmation and appreciation in the approach to the peace process. It's a flaw I know something about, because as an individual I'm often hopeless at it myself.
During the training, Joseph Karanja, a lawyer from Kenya, shared with the participants three principles for a peace process:
It must be wholly positive in its approach. This campaign should not seek to criticise any individual or party. Give an equal challenge to everyone to take responsibility for South Sudan.
Whatever you do, this process that you have started is ongoing. You must not seek to benefit personally. Of course you benefit when there is peace but do not expect any material or political benefits. It must be for the good of the country.
Sometimes in society you find people who have very strong inclinations towards a particular party or school of thought. Find a balance in including them and see, in your own wisdom, what role they can play. Include them in a creative way. Let them be part of the process.
At times all three of these precepts seem to be ignored. There can be a negativity and scepticism that becomes a self-affirming distrust. Prejudgment based on rumours and supposition. In early December 2013, before the violence broke out, I made a suggestion to someone working on a reconciliation initiative of an exceptional young South Sudanese to join the preparation team. It was rejected, at least in the short term, because of that person's association with an organisation perceived as being politically aligned. Ironically, the same person who rejected this suggestion was subsequently the subject of accusations that their organisation was also politically aligned (in the other direction). Though in fact neither had any political agenda, the standard of proof was hearsay. What way forward, in such an environment where one is presumed to be wrongly motivated, or just plain wrong, until proven otherwise?
Australia, my home country, whether it's an accurate generalisation or not, is renowned for the so-called 'tall poppy syndrome', whereby our reflex is to cut down any person, idea or concept that we perceive as rising above the common throng. It is an attitude based in fear and insecurity, and I find myself doing exactly the same thing at times – seeing someone doing something good, and immediately looking for the flaws, the reasons why they don't deserve the credit. It's a poisonous attitude at the best of times, and perhaps all the more so for a country so desperately in need of its reconcilers working together.
I asked one young participant at the recent training, who is currently working in relief services: 'When South Sudan is finally in peace, what do you dream of doing?' Her response was to work with orphans; an orphan herself and wanting to offer the love and security to the children in the same situation. South Sudan's hope of peace and unity appears to have been orphaned by the recent violence. The hope is there, but not fully formed and still vulnerable. Who will offer the maturity and integrity of perspective and leadership that the situation demands? Who will reject the appellation of cowardice culturally attributed to anyone who acknowledges wrong-doing? As one South Sudanese friend put it, who will 'be the coward' that the country needs to move forward?
At one point in the training, a young woman spoke, in a beautifully generous but honest way, of all that British colonialism had given and taken from South Sudan. I'm half-British, half-Australian; half oppressor of a good portion of the world, half oppressor of the Indigenous population in Australia. That's a reality that we kawajas have to take with us wherever we go; not to be pitied, because it is a challenge that pales against the challenges our heritage has bestowed on people across the world, but a reality nonetheless.
In Australia, though only a step, our former Prime Minister Kevin Rudd delivered an apology on behalf of the parliament to the Indigenous peoples. It was a step that restored some of a younger generation's hope in politics and leadership. It came on the back of decades' work by individuals responding to the call of conscience for a country burdened with the weight of historic injustice.
Nothing is all darkness, and why I continue with my commitment to South Sudan is because local friends – with a depth of integrity and commitment that humbles me – recognise that for all our faults, some outsiders may have important pieces of the puzzle to support the process. Exactly in the same way that my country Australia is built on 60,000 years of indigenous tradition followed by 230 years of immigration from across the world; including, more recently, some 20,000 South Sudanese. And the so-called father of Australian multi-culturalism is a Polish man!
While I was working on this latest training initiative in Yei, I often thought of one South Sudanese friend in Australia continuing his work through-out the community there – him supporting what I'm doing in 'his' country; me appreciating what he is doing for 'my' country (which is also 'his', now that he's a citizen). But the reality is that the nationalism discourse implied by 'my country' and 'your country' is a fiction in the 21st century, if ever it wasn't. Bloodshed in any country is our common concern – and this isn't just high-minded idealism; this is the reality of displaced communities across the world and the ripple effects of one country's fracturing within diaspora communities in other countries, and so it goes on.
The title of the recent Yei training was 'A step together: shared journeys of listening and dialogue'. How can we move together if the reconcilers are not reconciled? How can we journey if we bicker over inconsequential aspects of the destination? And how can we listen and dialogue if we've shut our ears? It is not for me to say that this is truly possible in South Sudan, as someone who can't begin to fathom the pain and suffering of a nation that has lived and breathed so much war in recent decades. So I don't base my hope in it on any more than the observation of South Sudanese, from different backgrounds, including many at this latest training, who are dealing with their past, their prejudices, who are listening… and who soldier on – in peace – as those around them try to cut them down.
I returned again in this latest training to a question that has consistently struck me: what would my next step be, as a reconciler, if I had 'nothing to prove, nothing to justify, and nothing to gain for myself'? And as another maxim puts it: 'as I am, so is my nation'.
Rob Lancaster was a facilitator of the recent CNHPR Training Program in Yei, South Sudan. He works with Inside Change, a partner of the training, supported by the international network of Initiatives of Change.
I've just arrived back in Australia after two years away. I have the good fortune to have been born here, and the luxury (finances permitting) of coming whenever I like.
Australia oozes a sense of comfort. As always, a beautiful country it is still a land of opportunity. A coffee is extortionately priced, but given that this is my only complaint about day to day living since I've been home, things can't be too rough.
Comfort for some, I should say. A country built on immigration, a country once internationally regarded for its good global citizenship and human rights record, is becoming increasingly miserly in our treatment of those seeking refuge here from persecution, insecurity and violence.
I noticed on Facebook yesterday a Christmas cartoon that pointedly portrays the way we use walls to try and strengthen our security. Australia may not have built a physical wall, but it does have a treacherous expanse of sea that it exploits. And then we describe those who have put their own lives and the lives of their family at risk to escape persecution as 'illegal maritime arrivals'. The recent New York Times exposé lifts the lid on the myth of boat arrival as any sort of easy option.
A week ago I was in South Sudan, a trip that included five days with the first annual retreat of the Committee for National Healing, Peace and Reconciliation. The Committee, chaired by the Episcopal Archbishop Daniel Deng Bul, is made up of an extraordinary collection of people committed to the task of reconciliation in theirs, the newest country in the world. I hope to write something more specifically on that in due course.
A week later the capital of South Sudan was a scene of brutal violence, with reports of up to 500 dead, including civilians, and leading to some 20,000 civilians seeking refuge at the UN compound. As I watched the news, hoping for an update on the situation, the latest scenes from Syria came in. Hundreds more dead there.
Sometimes within 24 hours of such crises unfolding, Western embassies order their staff out and advise all other nationals to leave immediately. And where do they go? – Many would have a number of options to ensure their physical security. This is the standard we have for our own nationals, and rightly so.
It wouldn't be realistic to have an equivalent approach to all the people of a country in crisis. However, when people facing this sort of insecurity on a constant basis make the decision to leave everything they know to make an uncertain trip, sometimes across multiple continents, before embarking on an immeasurably more uncertain boat trip towards Australia, we greet them with the label 'illegal', and we detain them, including the children.Then we take an eternity to process their applications, while holding them in what the UNHCR describes as 'inhumane' conditions, and we assume that they are more likely to be criminals than legitimate refugees and treat them as such.
And we do all this in the name of 'our' security. The issues are complex, and perhaps it will be hard to agree on a satisfactory solution, but some of the most fertile minds in the country have now agreed at least that the current approach is definitely not the answer. See here and here.
In South Sudan, people are grappling with an uncertain future. The Committee for National Healing, Peace and Reconciliation, along with many others, on the back of the decades' long civil war that led to independence, is contemplating the road ahead after fresh bloodshed. This is their reality. While here in Australia we still fear boat people seeking asylum; when such people have a history of enriching our country immeasurably.
Maybe the innkeeper in Bethlehem, if he could reflect today on his indifference in turning away Mary and Joseph, would say it made a great story. I wonder what history will say of our indifference in turning away people who thought that Australia held out hope for them. We are trying tooth and nail to erode that hope; the sense that Australia is a place of refuge and a new start. If ever we should succeed, shame on us, because in sacrificing the dignity of others at the altar of so-called 'national security', we sacrifice our dignity as a nation.
During the Committee retreat in South Sudan, one morning session was devoted to a reflection on the biblical parable of the prodigal son. Australia as a country has similarly lost its way – will we have the humility to return home?
This blog originally appeared under Global Voices for the Initiatives of Change International website - www.iofc.org
Rob Lancaster from Australia was one of the team responsible for training nearly 200 peace and reconciliation mobilizers in South Sudan earlier this year.
Rob Lancaster from Australia was one of the team responsible for training the peace and reconciliation mobilizers. This was his speech to the graduates of the four-week course which concluded on 1 May.
Speech for closing ceremony of Peace and Reconciliation Mobiliser training – Juba, 1 May 2013
There are many South Sudanese in Australia right now, playing a part in writing the newest chapter in Australia's multicultural history. So it's a pleasure to be here in South Sudan and playing a small part in writing this the newest chapter in South Sudan's history. Thank you.
There is training everywhere in the world. There are as many training programs as there are tadpoles in the puddles around Juba right now. We often go to trainings looking for answers from the trainers. But we say the answers are not with us, the so-called 'trainers'. The answers are, rather, within us, between us, and among us.
Building bridges between people, the theory is very clear and very simple. But without a renewed spirit of hearts and attitudes in people, that theory amounts to nothing, which is why our whole training has primarily focussed on the qualities of a peacebuilder. This is the first dimension of the training. Am I ready to be open to others, to give others credit, to trust others? Am I ready to let go of power and pride? Am I willing every day to look first to where I am not living with integrity, rather than pointing the finger at those around me?
And then the toolkit of a peacebuilder, the second piece of the training program. With that spirit of selflessness, how can I draw on story sharing, different facilitation techniques, dialogue circles, conflict mapping exercises, and so on, to invite others into that same journey.
Finally an action plan. Time will tell how we go with that.
But the foundation of our training has also been that the greatest action plan comes not directly from a template, or a model that is taught, but from searching daily for a wisdom beyond each of us – correcting where we are going off course, and finding an inspired, selfless direction forward.
As we leave, let's be real. Incredible things have happened this month. But this will only translate into peace and reconciliation for South Sudan if a committed group takes it forward. And a committed group doesn't wait for finances, or an official plan. Perhaps we can ask ourselves as we leave today: is my commitment to reconciliation in South Sudan conditional – on money, on being recognised, on being given a position? Or am I absolutely committed to this – such that I will work for unity in this country whatever obstacles come my way?
Reconciliation, to my mind, is part of the mandate of being born. As one of the facilitation team, this month has been part of a journey of healing for global reconciliation. The history closest to our conscious memory is often linked with a national narrative. At the same time, we are all connected by deeper and longer narratives. And the peace of the world will only bring us closer together, physically at least. Our journeys of reconciliation nationally – be they in South Sudan, Australia, or wherever else – will teach us lessons not just for putting right the past, but getting right the future of our relations with those whom we perceive as different. That is a journey for us all. Thank you to all the participants and to the government of South Sudan for allowing us to share in this chapter of that global journey with you.
This was originally published on the International website of Initiatives of Change - www.iofc.org
At a time when much public debate consists of the divisive trading of strongly held (and opposite) opinions, Rob Lancaster asks if there is a better way.
I started writing this article, provoked by a news story about one of Australia's most well-known and polarizing radio presenters, Alan Jones. Jones has been instructed to apologize publicly for vilifying comments he made about Lebanese Australians in 2005. Not only is he being forced to apologize, but the tribunal that has made the instruction has even written the wording of the apology for him. It brought to mind former Australian Prime Minister Kevin Rudd's talk in Caux earlier this year, outlining seven principles for an effective apology. It seems to say something about us as a society that the notion of an apology can be so warped into a mechanical and contrived legal remedy.
Later that same day we heard the news from the US. And then facebook exploded. On the one hand, there was a proliferation through social media of what I would describe as thoughtful, well-intentioned and constructive dialogue. People shared considered pieces that touched on parenting, gun control, mental health, or a combination, and often with a very personal dimension.
At the same time, I was taken aback by one facebook post from a friend in the Middle East. It was a photo from Obama's press conference labelled: 'Pretends to cry about school shooting... while bombing innocent men, women, and children in Pakistan, Yemen, Libya, Afghanistan, Iraq, and Palestine'. It reminded me of a post I'd seen just over a year ago as we approached the ten year anniversary of 9/11, which said something along the lines of 'Dear USA, your 9/11 is our 24/7. Get over it. Sincerely, the Middle East'.
The debater in me has an almost irresistible urge to confront these sorts of comments. But what are they really saying? What is Alan Jones really saying when he vilifies foreigners? What are people really saying when they post insensitive material? What is someone saying to me when they yell at me apparently irrationally? What lies behind things we decry as hypocrisy (and then do it in our own way at other times)? What am I saying when I hurt someone unnecessarily?
Because behind all these people are individual stories, and perhaps it takes a leap to meet people not at the level of their arguments (which so often from my perspective will seem flawed), but at the level of their humanity. I was reading a book this last couple of weeks on social construction, which talks in part about conditions for meaningful dialogue. The author describes a gathering arranged between people of the pro-life and pro-choice 'camps' in the abortion debate. It began with a dinner, where people were asked to talk about anything except their stance on abortion, and then was followed with a dialogue around three questions:
'How did you get involved with this issue? What's your personal relationship, or personal history with it?
We would like to hear about your particular beliefs and perspectives about the issues... what is at the heart of the matter for you?
Many people we've talked to have told us that within their approach to this issue they find some grey areas, some dilemmas about their own beliefs or even some conflicts... Do you experience any pockets of uncertainty or lesser certainty, any concerns, value conflicts, or mixed feelings that you may have and wish to share?'
An invitation to social construction (2009), 2nd ed, p 119
I'd hazard a guess that behind everyone who demands their right to a gun, there's a story and an insecurity that I could identify with in some way; behind everyone in a war-torn country there's a pain and insecurity that I may not be able to comprehend but can acknowledge and identify with to some extent, and so it goes on.
Difference won't go away, and I personally wouldn't want it to, but how do we create the space for a dialogue that will explore difference in a constructive way; in a way we can all draw insights from the people we don't understand – perhaps don't even want to understand?
This week to me was not about guns, nor mental health, nor about America; it was about what it means to be human; good and bad. And that manifested itself in many ways.
This first appeared as a Global Voices piece for the International website of Initiatives of Change - www.iofc.org
For the last four years, somewhere around the final week of June, I've made my way up the mountain from the Swiss city of Montreux, famous for its Jazz festival, to the rather less famous village of Caux, 1,000m up the mountainside towards the distant Rochers de Naye.
I'm not the only one to keep coming back. I roughly calculated that about 100,000 people hours, overwhelmingly from volunteers , are invested in the Caux Conferences each year. It's certainly an idyllic setting, but many of the volunteers spend most of the daylight hours (and often night hours) in a kitchen, or behind a desk somewhere, facilitating all that happens during the conferences, as well as the parallel programmes, including the Caux Scholars and the Caux Interns Programme. Perhaps it's something in the spirit of the interactions there that draws people back. They are, after all, 'just' conferences – quite a lot of talk. And many of the underlying themes could seem rather simplistic: concepts like 'the new we needs a new me'; the idea that human security needs to be understood holistically; that trust and integrity are good for business; that there's an important  link between personal and global change; or that there are tools to understand the dynamics of being a changemaker. So what!.
Yet it seems some of these points aren't sinking in. Despite our capacity for extraordinary feats of innovation and ingenuity, we seem strangely incapable of grasping the keys to collective prosperity. The fact is that, historically, those saying 'we can't' have often successfully convinced those saying 'we can' that no, in fact, we can't! But standing out are some extraordinary examples of the opposite.
And it's in this area that Caux is well placed to offer an important contribution, going back to 1946. With a view to an improbable reconciliation, it hosted some of the first Germans to leave Germany after the war, along with hundreds from France. Then, as now, the Caux approach aims to make integrity in decision making a practical reality at all levels; to create space for reflection (all the rarer now that distraction is always only a click away); genuine dialogue among people of diverse backgrounds, and see where to discern the next steps for action.
This summer in Caux has sketched more such examples. A remarkable evening with Australians Kevin Rudd, Jackie Huggins and Daryle Rigney emphasised the power of an effective apology, along with reality about what is needed for meaningful restitution of historical wounds. Farai Maguwu spoke compellingly of his work combating corruption in the extractive industries, discussing principles of integrity alongside Josef Winter, who is charged with seeding a new culture of good governance in Siemens.
Transformative change demands people who can catapult us beyond the parameters of linear development. Nelson Mandela didn't accept the parameters of apartheid. Nor did Jean Monnet, one of the founding fathers of the European Union, accept that his continent would always be governed by a crude win-lose mentality. And yet we treat most challenges as problems to be solved within a flawed paradigm, accepting limitations of the status quo. But why assume that trust and reconciliation is not possible between people or peoples who have been mired in mistrust for centuries, or that the dialogue between the '99%' and the '1%' has to be an adversarial one?
What gets in the way of a new paradigm? Perhaps it starts somewhere in the realms of our hypocrisy (dare I suggest this isn't a flaw our politicians have a monopoly over?). There's always something wrong with the people around me, and that must be why I'm having so much difficulty. As the lyrics to a 1950s Colwell Brothers song go; isn't it, isn't it terribly sad, that I'm so good and the world is so bad! The reality is that although the unexamined life may not be worth living, many of us give it a red hot go. And to the extent I do examine it, I generally have an excuse, while the other's indiscretions are unforgiveable (or at least grounds for holding a grudge indefinitely).
Maybe we can do something about that at a personal level, but does that relate to change on wider scale? Those in Australia may know of Kim Beazley Snr, who served in the Australian parliament for 32 years, 27 of those in opposition. He said that 'if you do not accept the importance of conscience, you accept only the importance of power'. One defining encounter for him was in 1953 when he was challenged to examine his life 'with nothing to prove, nothing to justify and nothing to gain' for himself. The fruit of his response to this is well documented in his memoirs and obituaries following his death in 2007.
The Caux approach reminds us that change means a change in people as much as in structures. People don't like to change; so if I'm not prepared to start with myself, I can't fairly expect anyone else to change. And somewhere in the roots of this is the reason I return each year to Caux. On the side of inspiration; seeing people, especially younger people, glimpsing the possibility of community built on the deepening of relationships and trust. On the more challenging side; the inevitable illumination of areas where I need to improve; particularly in extending the same compassion and care to the people I don't like as to the people I do.
There still remains for me an impenetrable question mark around the periods or moments we seem impelled into self-absorption and attachment despite ourselves. I'll leave it to someone else to comment on that.
This first appeared as a Global Voices piece on the International website of Initiatives of Change - www.iofc.org
/